As if full engine and cylinder head rebuilding services were not enough, let Midwest-124, Ltd solve ALL of your Fiat 124 Spider and Coupe power train needs with 5-speed transmission rebuilding services.
Does your 5-speed pop out of gear on deceleration? (worn shift forks and/or sliders) Do you grind gears between shifts? (worn synchro rings and springs) Is your transmission noisy in neutral? (worn input shaft and needle bearings) or at all speeds (main and layshaft bearings). Midwest-124 can take all the guesswork out of your mind and provide a rebuild service to get your 124 shifting like new!
Each transmission is completely stripped, cleaned, and inspected. Cast casings are soft media blasted and inspected for any cracks. All syncrho rings, springs, sliders, forks, and bearings are hand inspected and replaced as needed.
A note about proper 124 5-speed transmission lubrication.... The yellow metal synchro rings used in the Fiat 124 transmission CANNOT be exposed to EP type gear oil! These are the gearbox oils commonly available at today's auto parts stores. (GL2, GL3, GL4 and GL5). The extreme pressure additives in these oil will attack the soft metal synchros and greatly shorten their life. Watch out for the synthetic oils such as Redline as well. True, these synthetic oils are SAFE for the Fiat's yellow metal synchro rings, but the synthetic oils are often too thin and too slippery to provide proper protection in the splash-lubricated transmission. Synthetic oil is simply too slippery to stick to the gears. The Fiat manuals make it clear.... GL-1 (ie 90 weight mineral oil) is the lube of choice. Yes, it is thick as molasses when cold, but it is the RIGHT oil for the job. In a colder climate, an acceptable substitute is a 50 weight (not a multi grade!) engine oil such as Valvoline 50W racing oil. Engine oil lacks the EP additives and is safe for the Fiat synchromesh rings.
With any transmission rebuild, I am happy to supply two quarts of the proper GL-1 lubricant. It is also recently available at NAPA auto stores in 1 gallon containers at a very reasonable cost.
Below are some recent examples of recent assemblies.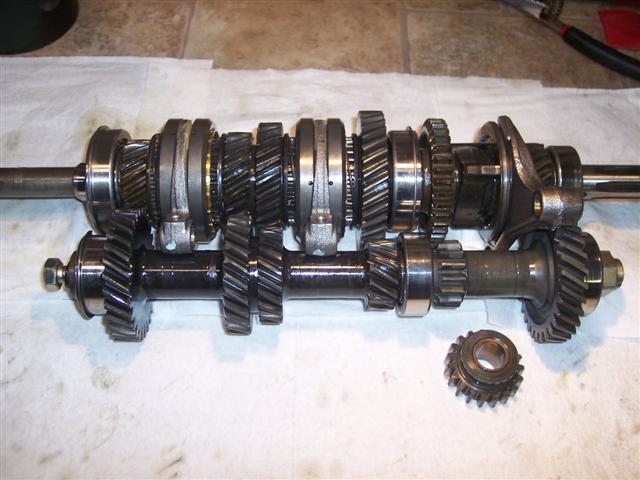 Midwest-124 offers 5-speed transmission rebuilding services for your 124 Spider and Coupe. Starting from your own transmission or one of the many cores on hand, the transmission will be stripped and cleaned and all gears and shafts inspected. New synchro rings, sliders, and shift forks will be installed and where necessary bearings, synchro hubs and gears.
Shown above and below are the primary components, cleaned with new synchro rings, sliders, and hubs ready for reinstallation into the casing.
Below shows how all the shafts, gears, sliders, bearings and forks all fit together inside the case. What an efficient design to transfer power from the engine!
Final picture on the right shows the 5th gear extension housed in the rear of the casing. 5th gear shown has new steel synchro ring, new slider, and brand new shift fork. Rear case can be tricky to install without tearing the thin paper gasket!!